Welcome to Greenfield, MA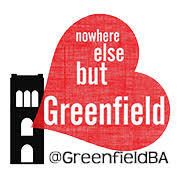 Surrounded by the foothills of the Berkshires at the convergence of the Green River, Deerfield River and Connecticut River, Greenfield, MA, is blessed with natural beauty, a vibrant downtown and an engaged community. We are easy to reach by car: Interstate-91 and Route 2 meet in Greenfield. Boston is just 2½ hours east and New York City lies 3 hours to the south.
For more than fifty years, the Greenfield Business Association has actively promoted Greenfield, MA, as a destination for the people of Franklin County and beyond to visit, shop, dine and conduct business. We help local businesses attract their target audience, and promote public awareness of the strong business community.
Greenfield, the county seat of Franklin County, is rich in history, and is undergoing a renaissance as several of its beautiful downtown brick buildings are being adapted for modern use, many using green technology such as geothermal heating and cooling and rooftop solar arrays.
Greenfield offers exciting opportunities for outdoor recreation, unique shopping (including one of the only independently owned department stores in the nation), fabulous art and entertainment, and great dining and lodging.